Craft a Spooky Stay With Cabin & Campsite Decorating Tips
Boo! Did we startle you? Well, that's the spirit! It's time to get your spook on and prepare for the most fang-tastic event at Jellystone Park™ Warrens– Halloween Spooktacular Weekends!
Now these are no ordinary theme celebrations – we're talking back-to-back weekends, beginning the weekend of September 29th, filled with frightful fun and delightful scares! From visiting our Magic Pumpkin Patch to braving our haunted house and pumpkin carving to trick-or-treating, there's a cauldron of family fun waiting for you.
And let's not forget another highlight – the cabin and campsite decorating contest! So, to help you create the most boo-tiful site that's the talk of the park, we've conjured up some ghoulishly great campsite decorating tips just for you!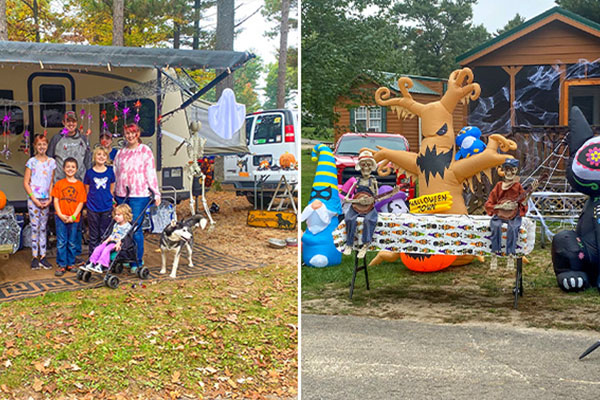 Photos: Jellystone Park™ Warrens
Cabin and Campsite Decorating Tips
Pick a Spooktacular Theme: First things first, every great site needs a theme. How about a 'Monster Mash Bash,' a 'Pumpkin Paradise,' or a 'Friendly Ghost Gathering?' Remember, the goal is to have a skele-ton of fun! A well-thought-out theme can transform your cabin or campsite into a Halloween wonderland that will delight both kids and adults.
Creepy Tunes To Set the Atmosphere: What's a Halloween site without some chilling tunes? Create a playlist of Halloween songs to play in the background. From 'Monster Mash' to 'Ghostbusters,' the right music can set the mood and get everyone in the spirit of the season.
Light Up the Night: Use LED lights to create an eerie glow. Fairy lights can make your cabin or campsite look enchanting, while colored lights can add a touch of Halloween magic. You can even paint empty milk jugs with ghostly faces and place a battery-powered light or glowstick inside for a fun DIY lantern.
DIY Decorations for a Gourd Time: Get the kiddos involved with crafty, homemade decorations! Carve some grinning pumpkins or paint them with whimsical designs. Create a ghostly wind chime with white paper or cut out and make spooky figures from recycled materials.
Eco-Friendly Frights for the Cabin and Campsite Decorating Contest: Let's keep our Halloween green, not just orange and black! Use natural materials like cornstalks, hay bales, or fallen leaves for your decorations. Remember, Mother Nature likes Halloween too, but she doesn't like litter! Let's show her some love by keeping our park clean and green during the cabin and campsite decorating contest.
Safety Is No Trick, Just Treat: While we love a good scare, safety is our number one priority. Make sure your decorations are secure, pathways are clear, and lights are safe for use outdoors. After all, we want our scares to be fun, not a hazard! Let's make this Halloween a treat for everyone.
So, grab your pumpkins, string your lights, and let your creativity run wild in our cabin and campsite decorating contest! With these tips, your site is sure to be a Halloween hit. Remember, the real magic of our Spooktacular Weekends at Jellystone Park™ Warrens is the laughter, memories, and family fun. We can't wait to see your unique decorations and celebrate this bewitching season with you. See you in October for weekends of frightful delights!
Ready To BOO-st Your Cabin or Campsite Decor?