GOLF CARTS & ADD-ONS
Elevate your stay at Jellystone Park Warrens
 Our convenient add-ons make life easier and enhance your experience. Whether you're looking to streamline your park exploration with our golf cart rentals or seeking a unique aquatic adventure with our Aquabana Rentals, we have options to suit your needs. Our golf carts provide quick and easy transportation around the park, while our Aquabana Rentals offer a delightful waterside escape. With these enhancements, you can make the most of your stay and create lasting memories. Please inquire for pricing and availability during your visit.
Golf Cart Rental
While personal golf carts aren't allowed on the park grounds, we provide rentals for our registered guests so you can:
Quickly grab bags of ice and other supplies from the camp store.
Haul the kids, towels, and sunscreen to the water park.
Meet up with friends for a game of basketball followed by a potluck at their campsite.
Get where you and your family want to go in a fraction of the time with our rental golf carts.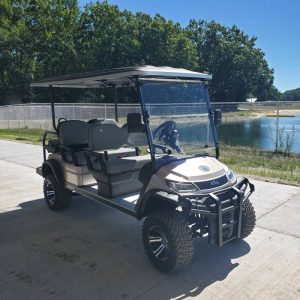 Standard Golf Cart | $85.00/day | Seats up to 4                        Limo Golf Cart | $139/day | Seats up to 6
Deluxe Limo Golf Cart |$159/day | Lifted, Seats 6, USB Charger, and Front Windshield
Things to know before renting:
Golf Cart pick up starts at 2p
Rental requires Discover, Visa, Mastercard, or American Express – No Cash.
Registered guests must be 18 years of age with a valid driver's license present in their possession to drive a golf cart.
Registered guests must keep golf carts on Jellystone Park™ Warrens property roads at all times.
All golf cart renters are required to sign the Golf Cart Liability Waiver.
Please Note: Prices are subject to change without notice, and all rates are subject to Federal and Local taxes.
If any employee of Jellystone Park™ Warrens is witness to any misuse of the golf carts, we reserve the right to terminate the rental of the golf cart with no refund.
To help us keep our park beautiful, please do not drive the carts on the grass.
Aquabana Rentals
Get Ready to Cabana Bash on the Water: Rent Your Floating Cabana at Jellystone Warrens!
Book morning, afternoon, or the whole day!
Two bags of ice included.
Bluetooth Speaker included.
A pizza included.
Covered sitting area for twelve.
Large lounge deck for relaxing.
Cooler area to keep your drinks ice cold.
$150 for half a day
You Bring the Family, We'll Provide the Fun Jellystone Park™ Warrens