Discover Glamping at Jellystone Park™ Warrens
Elevate Your Camping Adventure
Have you ever dreamed of an outdoor adventure with all the comforts of home? At Jellystone Park™ Warrens, we're taking camping to a whole new level. We're talking about glamping – where stunning nature meets modern luxury. It's time to experience the unique charm of glamping at Jellystone Park™.
How to Take Camping to Glamping at Jellystone Park™ Warrens
Unique Accommodations: A Touch of Luxury in the Wilderness
Start your glamping journey with our unique accommodations.
For those seeking an indulgent experience, Warrens Lodging offers luxurious villas nestled in a secluded wooded setting. Here, R&R is paramount, with each villa thoughtfully designed to include home-like amenities such as full kitchens and lofts, offering the perfect escape for families who crave tranquility and privacy after a day full of outdoor activities.
But if you wish to stay closer to the heart of the park action, our Jellystone Park™ cabins offer a delightful blend of comfort and nature. Each of these fully-furnished cabins provides a cozy setting while keeping you just steps away from the park's vibrant atmosphere.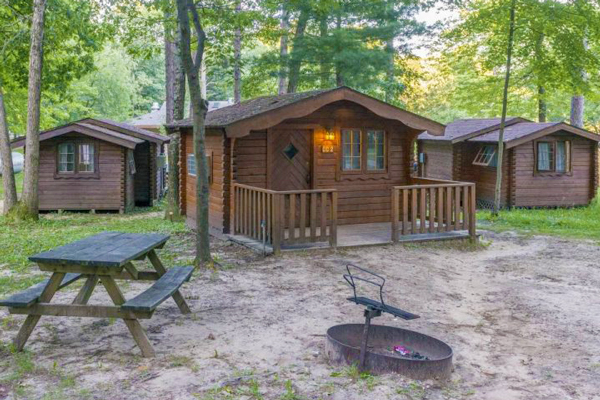 More Than Just Camping: Enjoy Our Exciting Attractions
Glamping at Jellystone Park™ Warrens also means having access to a variety of exciting attractions. From thrilling water adventures at the Water Zone (we're talking a wave pool, waterslides, and lazy river) to our unique Wibit™ floating water park and peaceful activities like fishing and exploring nature trails, there's always something to do. These attractions transform your camping experience into a fun-filled adventure, making your stay unforgettable.
Amenities to Enhance Your Stay
To make your stay even more memorable, Jellystone Park™ Warrens offers a host of premium amenities. Enjoy the convenience of golf cart rentals for navigating the park, and treat your taste buds at our on-site dining options, including the Pic-a-nic Basket and an ice cream shop.
For a truly special touch, you can arrange for a special bear visit, bringing the magic of Yogi Bear™ to your own accommodation!
Glamping at Jellystone Park™ Warrens is all about providing you with an extraordinary camping experience. It's about combining the joy of being in nature with the luxury and comfort of modern amenities. So why wait? Start planning your glamping adventure today!
Upgrade Your Camping Experience
Book a Cabin at Jellystone Park™ Warrens