7 Creative Ways To Make S'mores
When you think of camping, what comes to mind?
Sleeping in a tent under the stars
Making a campfire
Roasting marshmallows to make s'mores
S'mores are a traditional American campfire treat. And while the scrumptious combination of melted chocolate and marshmallows sandwiched between two graham crackers is quite satisfying. It's also fun to mix things up a bit and try other ways to make s'mores!
Try these creative s'mores ideas around your campsite or cabin campfire when you and the family stay with us at Jellystone Park™ Warrens, opening up for the 2022 camping season in April.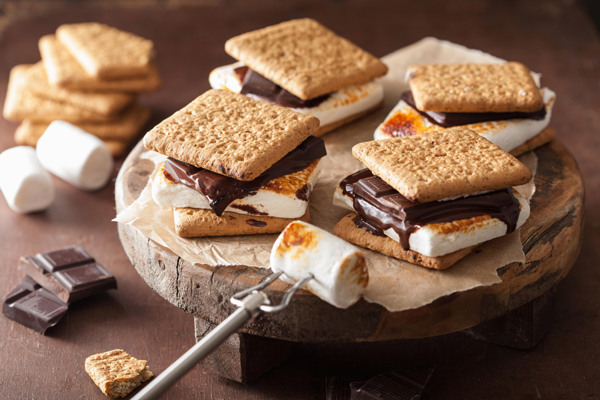 7 Creative Ways To Make S'mores
S'moreos

This treat pairs an Oreo cookie and its cream filling with roasted marshmallows.

Banana Split S'mores

To create, cram chocolate pieces, banana slices, strawberry slices, and gooey marshmallows between two graham crackers.

Chocolate Chip Cookie Nutella S'mores

Substitute chewy or homemade chocolate chip cookies for the usual graham crackers, spread Nutella on the inside, and squeeze in your roasted marshmallows.

Bacon S'mores

A favorite among the many ways to make s'mores is the addition of crispy bacon. Everything tastes better with bacon! Roasted Marshmallow + Salted Caramel Chocolate Candy Bar + Crispy Bacon + Graham Crackers = Bacon S'more Magic!

Moose Tracks S'mores

If you absolutely love this flavor of ice cream, you'll flip for its s'more version, which includes sandwiching a Reese's Peanut Butter Cup, caramel square, and roasted marshmallows between chocolate graham crackers.

Cheesecake S'mores

Get your fill of cheesecake, camping-style. This simple recipe calls for graham crackers, whipped cream cheese, strawberry, raspberry or blueberry jam, and marshmallows.

Pina Colada S'mores

Get a taste of the tropics with this sunny treat that combines white chocolate, grilled pineapple, toasted coconut, and marshmallows between graham crackers.
There are, of course, countless ways to make s'mores over the campfire. Using your favorite ingredients will make a delectable combination…or at least a very interesting creation! However, you stay and play on your first 2022 family getaway to Jellystone Park™ Warrens, don't forget to add s'more quality time cozying around the fire and roasting marshmallows!
Make S'more Camping Memories With The Family