3 Reasons To Get Outdoors and Go Camping With The Family
Camping with the family provides the perfect opportunity for every member to break away from their hectic schedules and ho-hum routines. It's a great escape to the great outdoors that offers all sorts of benefits, including physical, emotional, and mental wellness. A camping getaway with the family is an activity often perceived as more of an investment. It's time well spent with the ones you love and then some.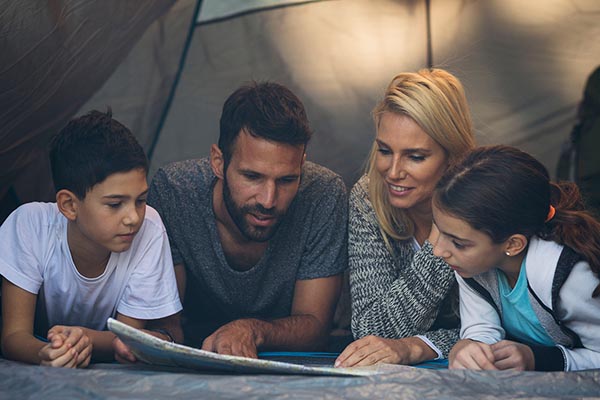 3 Reasons To Get Outdoors and Go Camping With The Family
Reason 1: It's Healthy For Everyone
Time spent camping is physical time. From setting up the campsite or cabin to all of the exciting recreational activities that come with being outdoors (like hiking, biking, fishing, and swimming), you can't help but be active! Camping requires everyone to move around more!
At Jellystone Park™ Warrens, families can experience fun under the sun with our endless amenities and activities. After unpacking at your site, head on over to the Water Zone for some wet n' wild shenanigans, play a friendly round of mini-golf, join one of the many planned activities (especially during weekend stays), and much more!
Reason 2: It Builds Skill Sets, Independence, And Confidence In Children
Camping for many families is a tradition passed down through the generations, almost a rite of passage for kids as they learn about nature and build skill sets that will serve them well later in life. Learning a new skill builds self-esteem and helps bridge the way to independence. When it comes to camping with the family, kids can gain a variety of abilities like:
Packing for a camping trip.
Setting up and maintaining a campsite.
Pitching a tent.
Campfire safety.
Preparing a camping meal.
How to fish, swim, and play one of our newest attractions–Soccer Pool!
Leave-No-Trace principles.
Reason 3: Camping With The Family Strengthens Bonds
Leaving the best for last, camping is an excellent way for families to bond through group activities and common interests, from pitching in with camping chores to playing and enjoying all kinds of activities together. This is a perfect time to connect with your children, talking and visiting without everyday distractions, even late into the night around a campfire. Another reason for having family time is to make memories, our specialty at Jellystone Park™ Warrens!
This 2022 camping season, Jellystone Park™ Warrens invites you to go camping with the family and explore its benefits. Opt for a campsite or cabin. And be prepared for an unforgettable vacation getaway, one you'll want to return to again and again!
Discover The Benefits of Family Camping This Season