Adventures of Workamping at Jellystone Park™ Warrens
Have you heard of workamping? It's the blend of work and RV camping. In essence, workampers are individuals or groups who choose to combine employment with the RV lifestyle. It's about balancing work responsibilities with the freedom of the open road. Whether you're a solo traveler, a couple, or a family, this lifestyle offers a unique way to earn and explore.
Now, consider diving into workamping at Jellystone Park™ Warrens. Here, we celebrate the fusion of work and recreation. Our park provides the perfect setting to embrace this dynamic lifestyle, offering a range of roles and a community that values fun as much as dedication.
Perks of Workamping at Jellystone Park™ Warrens
Diverse Roles Awaiting You
Whether you're keen on engaging with guests at the front office, maintaining the vibrant grounds, or being part of exciting activities, there's a place for you here. We're also seeking enthusiastic individuals for other positions, including Food & Beverage, Pool, Retail, and Golf Carts.
No specific skills? No problem! While some roles, like lifeguarding, have requirements, many don't. We believe in finding the right fit for your passion and our needs.
Compensation Beyond Just Dollars
Yes, there's an hourly compensation. But, let's talk perks! Think discounted food and store merchandise, free waterpark access, and guest passes to bring along family and friends. And every month, join in our employee parties!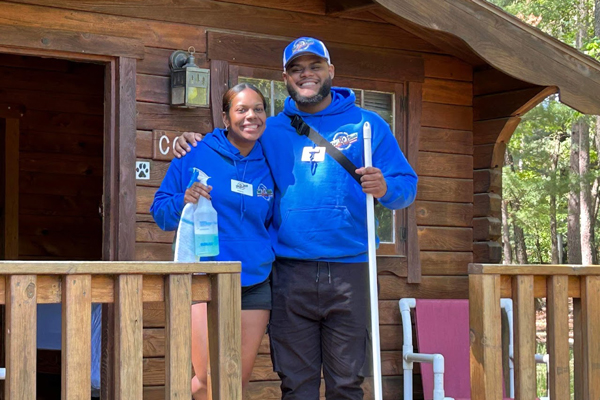 Home Away From Home
You'll be provided an RV site with a minimal monthly charge depending on your role and experience. Occasionally, cabins become available, too. Imagine wrapping up work and stepping out to your cozy space amidst nature.
The Perfect Season of Adventure
Workamping at Jellystone Park™ Warrens stretches from April to October, offering a generous window to be part of our world. Expect to clock in at least 30 hours a week, but with plenty of time to explore and enjoy.
Guidance Every Step of the Way
New to a role? We've got you covered with job-specific training. We're dedicated to ensuring you're confident and ready.
---
Carolyn's Story: A Workamping Adventure at Jellystone Park™ Warrens
Meet Carolyn, a workamper whose journey at Jellystone Park™ Warrens shines as a prime example of the enriching experiences we offer. Carolyn's story highlights the community and camaraderie she found among fellow workampers and the park staff. Every day presented a new adventure, and the park's supportive environment further enhanced her experiences. Her long-term association speaks volumes about the joy and fulfillment she found while workamping here.
Carolyn Can Buy Herself Flowers
Written by Travis Walsh
General Manager of Jellystone Park Warrens
Margaret Carolyn Banks's story began in 1945 when she was born in the quaint town of New Boston, TX. After her teenage years, Carolyn set out for East Texas State University. In 1967, she proudly graduated with a double major in Chemistry and English.
Life took an unexpected turn when she entered the corporate world, finding herself at the doorstep of Texas Instruments. Little did she know that her journey there would lead to an encounter that would change her life forever. During a company bowling league, Carolyn met the love of her life, Dan. Their shared interests and spark of chemistry led to a blossoming romance, and in 1983, they exchanged vows, beginning a love story that would span 37 beautiful years until Dan's untimely passing in 2020 due to a stroke.
One of Carolyn's enduring passions was the great outdoors. She had an insatiable appetite for adventure, often backpacking with friends through national parks and wilderness areas across the U.S. and Canada. It was this love for nature that she eagerly shared with Dan, and together, they forged countless memories exploring the wilderness.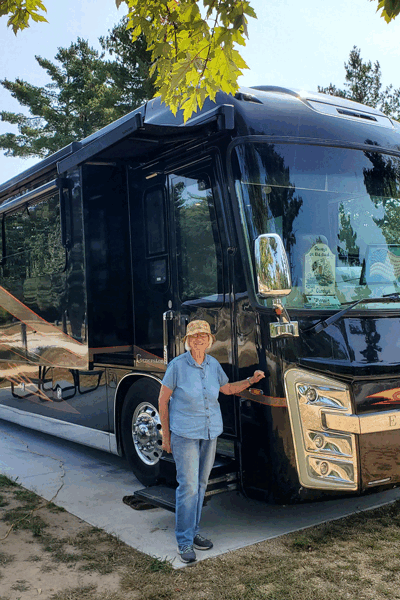 Their shared wanderlust eventually led them to purchase their first motorhome, embarking on a new chapter of exploration across the United States. In 1998, they became part of the vibrant community of Summer Rally enthusiasts, where fellow motorhome owners gathered for seminars, vendor exhibitions, and camaraderie. Carolyn even served as the secretary for one of the larger motorhome clubs and as a rally master for a club rally, showcasing her organizational skills and dedication to the community.
In 1997, Carolyn and Dan began their workamper journey, a nomadic lifestyle that took them from Maine to Michigan, California, and beyond. Their adventures led them to discover their first Jellystone Park™ in Woodridge, New York. Over the years, they moved to several other Jellystone Parks™ before settling here in Warrens in 2012.
Carolyn's contributions to the parks were invaluable. Her expertise and love for camping made her an indispensable member of the team. She would often take leisurely walks around the park, jotting down notes about the best sites and potential challenges for larger RVs. Her attention to detail and dedication to the park's success make her a beloved figure among the staff.
What truly sets Carolyn apart is her unwavering work ethic and independence. She operates her impressive 45-foot 2017 Entegra Cornerstone motorhome, complete with a towed SUV, all on her own. Guests at the park often marveled, mistaking her for a movie star or country music sensation due to her luxurious setup. Yet, Carolyn remains humble and self-reliant, always ready to lend a hand but never needing one herself.
Throughout her years at the park, Carolyn's resilience and wealth of knowledge inspire those around her. She never calls in sick, is never late, and always welcomes more work, turning even the slowest days into opportunities to contribute.
To all who know her, Carolyn is a remarkable woman. Her dedication, independence, and passion for the great outdoors make her an unforgettable presence at the park. She is, without a doubt, the hardest-working person within 20 years of her age, and we are immensely proud to have her as a part of our team. Carolyn is a testament to the power of passion, dedication, and the joy of embracing the open road.
---
Join the Jellystone Family
If Carolyn's story resonates with you, or if the call of workamping adventure beckons, we're ready to welcome you! To start your workamping journey with us, simply drop an email to info@jellystonewarrens.com. We're open to anyone with a zest for service and a love for camping.
Let's make memories, serve our amazing campers, and embrace workamping at Jellystone Park™ Warrens!