Elevate Your Campfire Cooking Game: Tips and Tricks
Cooking over a campfire is a beloved tradition for campers, and at Jellystone Park™ Warrens, it's an essential part of the camping experience. With cabins and campsites that come complete with fire rings, families can enjoy delicious meals over the campfire before continuing their camping adventures at the park. In this article, we'll explore some ways to improve your campfire cooking skills and make the most of your time at Jellystone Park™ Warrens.
Tips for Successful Campfire Cooking
Plan Ahead for Your Cooking Experience
Make a menu of what you want to cook and what ingredients you will need. Select recipes that are suitable for cooking over a campfire.
Choose the Right Cooking Tools
The right cooking tools can make all the difference when it comes to campfire cooking. Jellystone Park™ Warrens provides fire rings at every campsite and cabin for your convenience. You can bring along a good set of camping cookware, including a sturdy campfire grill/grate and a cast iron skillet. These tools are designed to withstand the heat of an open flame and will help you cook your food more evenly.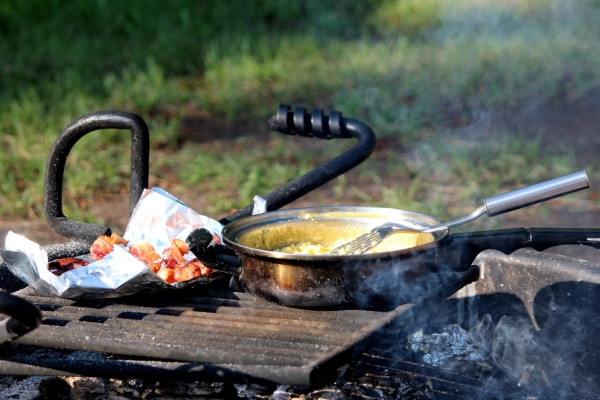 Build the Right Fire
To ensure that your fire is hot and consistent, it is important to choose the appropriate type of wood. Hardwoods like oak, hickory, and maple are great for cooking because they burn hot and produce long-lasting coals. Jellystone Park™ Warrens provides firewood for purchase to ensure that you have a good quality fuel source.
Use Foil Packets for Easy Cleanup
Simply wrap your ingredients in aluminum foil and place them on the hot coals. Foil packets are perfect for cooking vegetables, fish, and desserts like baked apples or banana boats. They are also easy to clean up and don't require any additional cookware.
Precook Ingredients for Convenience
Precooking ingredients can save time and make campfire cooking easier. Precook meats, vegetables, and pasta at home, and then reheat them over the campfire. This will help ensure that food is cooked thoroughly and reduce the risk of foodborne illness. If you forget an ingredient, swing by the camp store at Jellystone Park™ Warrens! We have an assortment of camping supplies and food items.
Savor the Flavor of Campfire Cooking
Campfire cooking is an integral part of the camping experience, offering a unique and enjoyable way to prepare meals while enjoying the great outdoors. Gather around the fire ring with your family and friends, and savor the flavors of your flame-kissed creations at Jellystone Park™ Warrens.
Get Fired Up for Your Next Camping Adventure!
Book Your Stay at Jellystone Park™ Warrens