Enjoy Weekends Filled With Terror-ific Halloween Activities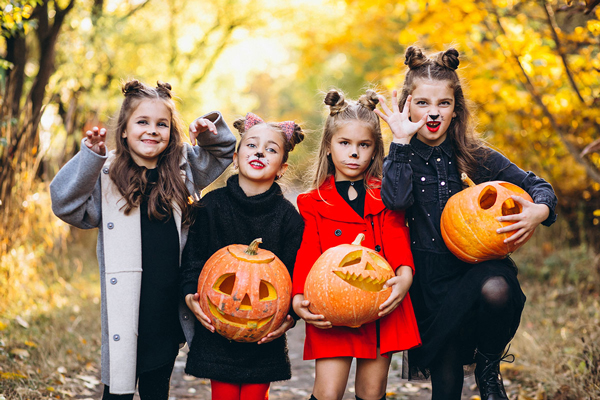 Fang-tastic Halloween Activities For Everyone in the Family
Pumpkin Carving

Get into the Halloween spirit by creating a jack-o-lantern. Paint or carve out your pumpkin and make it funny, cute, creative, or scary!

Trick-or-Treating

Enjoy trick-or-treating with your little monsters through the campground. Also, be sure to bring enough candy for all of the ghosts and goblins roaming about.

Costume Contests

What will you be for Halloween? Bring a costume for every day of your Halloween Spooktacular Weekend stay, if you'd like! Even dress up the pups! And be sure to enter our costume contests for cool prizes!

Pumpkin Chucking

It's pumpkin hurling at its finest! Send your gourd propelling through the air. Whose pumpkin will soar the farthest?

Arts & Crafts

Our Halloween activities also include art projects for all ages! Bring home a souvenir you created during our Halloween-inspired craft workshops. It's just another way to remember all the gourd times!

Campsite & Cabin Decorating Contests

Dig up your Halloween decorations! You'll need them to deck out your campsite, cabin, or Warrens Lodging Vacation Rental for our park-wide decorating competition! (Best decorated site wins a free night of camping next Halloween!)

Haunted Castle & Haunted Zombie Trail

Experience the thrills and chills every Halloween Spooktacular Weekend in our Haunted Castle! And during our third and final theme weekend (October 14th-16th), you can journey down the Haunted Zombie Trail…if you dare!!
A Different Theme Every Halloween Spooktacular Weekend
Each Halloween Spooktacular Weekend will have a unique theme so campers can enjoy different Halloween activities every weekend at Jellystone Park™ Warrens!
Oktoberfest Weekend

September 30th – October 2nd
It's a fall celebration that includes all the fun of the season with plenty of Halloween scares!
Book Now

Wizards, Witches, And Warlocks Weekend

October 7th – 9th
Grab your broomsticks and wands, and don your capes and robes! This weekend will be a wondrous mixture of mythical, magical, and medieval fun!
Book Now

Zombie Apocalypse Weekend

October 14th – 16th
Beware of the frights and sights that lurk around Jellystone Park™. Visit our haunted castle and brave the zombie trail…if you dare!
Book Now
Experience Halloween Season at Jellystone Park™ – A Good Time Will Behead By All!