Why Cabin Rentals Are Perfect For Busy Folks
When you are a busy family that doesn't quite have the time to plan and prepare everything you need for a campsite, villa and cabin rentals are waiting for your arrival at Jellystone Park™ Warrens!
For a truly relaxing getaway the whole family will appreciate, we offer an array of cozy cabins that accommodate up to 8 campers. Or upgrade to Warrens Lodging Vacation Villa Rentals for the perfect secluded getaway while still being close to the family-friendly amenities just steps away at Jellystone Park Warrens.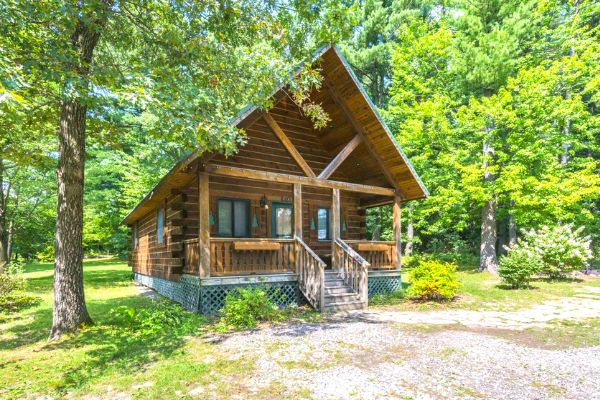 Why Cabin Rentals Are Perfect For Busy Folks
Less Time Setting Up
Compared to setting up at an RV or tent site, cabin "set up" simply requires opening the door and figuring out where to drop your bags. There is no headache with pitching a tent or backing up into an RV site. So you can quickly check in and then check out all the fun at the park!
No Need For Cumbersome Camping Gear
Opting for a rental means minimal packing. Aside from your clothes and a toothbrush, there is not much more you'll need, especially if you are staying at the swanky villa rentals at Warrens Lodging or in a Deluxe Camping Cabin. All linens like bedding and kitchen/bath towels are included. All other lodging accommodations provide pillows, but campers need to provide their own sheets.
Aside from these camping supplies, you'll find a range of conveniences in our fully furnished villa and cabin rentals, including:
Multiple bedrooms
Fully-equipped kitchens
Full private bathrooms
Cable TV
Screened-in porches
The list goes on and on. And since cabins range from basic to luxury rentals, you'll find different features in each type. Take a closer look at what each rental provides below:
A Safe Haven To Take Shelter
Rentals also offer a comfortable shelter from inclement weather. There really is no need for a backup plan when you are staying in a villa or cabin rental, complete with heating and air conditioning.
When All You Want To Do Is Check-in And Begin The Vacation…
Be out in nature, enjoying our many family-friendly activities and attractions without skimping out on the comforts of home. We can't wait for you and the family to experience a hassle-free vacation in our villa and cabin rentals.
Relax, Refresh, And Recharge On Your Time Off